Hilarious Audio: Ron Paul Cultist Goes BERSERK!!!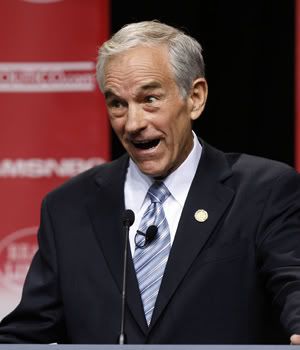 Okay, I admit it. Lunatics are my guilty pleasure. The big reason why I do the DUmmie FUnnies is because I get such a big kick out of observing the DUmmies on the Left. However, there are a few loons on the Right as well in a tradition going way back to the Know Nothings. Of course, I am referring to the Ron Paul cultists. Underneath their thin veneer of libertarianism lurks flat out NUtcases hiding behind the front of Ron Paul. Come to think of it, even Ron Paul himself isn't all there. I mean here is a guy who claimed that for years he never even read his own newsletter. Yeah, right. My theory is that some of these loons were just potential loons until Ron Paul brought out their inner loon.
One notable example is what happened to the CONSERVATIVE UNDERGROUND. Everything was copacetic at that site with some great info as to DUmmie activities and other related information. Then one day the big administrator there goes on a Ron Paul rant of such obnoxious bitterness that it drove almost all the sane members, including franksolich, of that site away. The end result is that the Conservative Underground is now just a shell of its formerself due to the Ron Paul cultist takeover. Of course, you can still get the same info over at the newly formed CONSERVATIVE CAVE which is like the old Conservative Underground but without the Ron Paul cult NUttiness.
And for an HILARIOUS example of the unintentional humor of the Ron Paul cult, I present this AUDIO of Derek calling Gunny Bob on a talk radio station. This clip is 3 minutes, 21 seconds long and the real foam-at-the-mouth action starts just past the 1:50 mark. And believe me, from what I've seen of the Ron Paul cultists, Derek is very typical of those Know Nothings. In the future, I might even DUFU the Ron Paul cultists. Hey, I'm not prejudiced. I feature the NUtcases wherever I find them.