Head KOmmie KOs blackmails Obama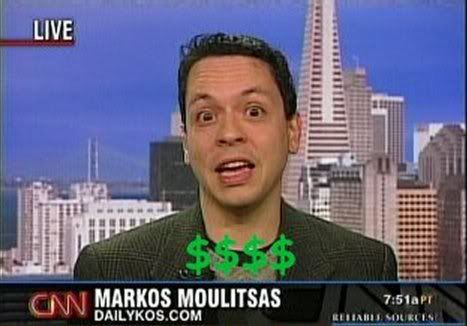 "No money for you!" Head KOmmie KOs stomps his little foot and crosses his angry arms! He's giving Barack Obama NOT ONE D*MN DIME until B.O. starts talking like an Über-liberal again! Of course, ever since Barack Opossum wrapped up the nomination, he's been "moving to the center." And as we saw yesterday with the DUmmies, this INFURIATES the Nutroots! Today we take a peek at the KOmmies' displeasure, in this THREAD, "Rewarding good behavior." Head KOmmie KOs must have struck a KHOrd, because this diary has generated over 1,300 KOmments! WAY too many to DUFU, but we'll sample a few. So enjoy the early fireworks, exploding in Bolshevik Red, while the commentary of your humble guest correspondent, Charlie Henrickson, wondering if Li'l Beaver will be Best Mammal at Charlie Crist's nuptials, is in the [Barackets]:

Rewarding good behavior

[AKA Blackmailing Barry]

So many of you are upset that I pulled back my credit card last night, making a last minute decision to hold back on a $2,300 contribution to Obama.

[And to think, Obama is only $2,300 away from winning!]

First of all, obviously Obama is a great candidate who is running a great 50-state race.

[I sense a "but" coming on. . . . Calm down, benburch, that's "but" with one "t"!]

But he's had a rough couple of weeks.

[Expect four more months of "rough," as Barry tries to fool non-KOmmunist America into voting for him.]

First, he reversed course and capitulated on FISA. . . .

[Did he switch to MasterCard?]

Then, he took his not-so-veiled swipe at MoveOn in his "patriotism" speech.

["Patriotism": Boo! MoveOn: Yea!]

Finally, he reinforced right-wing and media talking points that Wes Clark had somehow impugned McCain's military service when, in reality . . .

[. . . that's exactly what Weasely did!]

Maybe what looks like cowering to me is really part of that "moving to the center" stuff everyone keeps talking about.

[Cowerbunga, dude!]

But there is a line between "moving to the center" and stabbing your allies in the back. . . .

[Barack Obama has your back . . . with his blade in it!]

Obama is now clearly not looking much different than every other Democratic politician who has ever turned his or her back on the base. . . .

[All your base are belong to Opossum!]

Now I know there's a contingent around here that things Obama can do no wrong, and he must never be criticized, and if you do, well f*ck you!

[Head KOmmie KOs must have attended the Will Pitt School of Winning Friends and Influencing People.]

I respect the sentiment, but will respectfully . . .

[. . . say, f*ck you!]

I will never pull a Rush Limbaugh and carry water for anyone.

[You will never pull a Rush Limbaugh and appeal to enough Americans to get a $400 million contract, either. Oh, and btw, KOs, have you heard Rush "carrying water" for McCain this year? More like dumping water on his head!]

At the end of the day, I'm pretty irrelevant in the whole affair.

[KOs, you're vying for a Kewpie Doll there!]

It is what it is.

[But is the Obama birth certificate you posted what it is?

Now for a few of the 1,320 KOmments from the KOmmies . . .]

Stop whining. . . .

[It is what it is.]

I say good on Marcos. Right f*cking on.

[Power to the f*cking people.]

We're really small potatoes in the grand scheme here.

[I think of you more as curly fries.]

We have a dangerous fascist powerhouse in the military industrial complex that we're trying to shove from power. I personally would lie to defeat them.

[So, apparently, would Obama.]

raise hell but also raise cash. . . .

[Meanwhile, we'll raise McCain (albeit if only to defeat Obama).]

all McCain needs to do is not break the law, and Impeachment is truly off the table.

[They're already thinking about "Impeach McCain!" Unbelievable!]

I am so tired of all the fear-mongering going on here.

[Then go over to DUmmieland and check out the fear-mongering there!]

not one penny goes to Obama. . . .

[It's "Not One Penny to Opossum" Day!]

like giving a kid a toy BEFORE he cleans his room. . . .

[Go to your room, Barry, and I want to see it CLEAN, mister, or no allowance for you!]

what decade are you from?

[What planet are you from?]

He needs our assurance that we're good people and he's a good guy. So IMO that bond between us and him must be preserved. . . . For me, if he went back on his war pledges, his health care pledges, his restoring of reasonable taxes on the rich, then I'd feel differently.

[Well, guess what, Mr. Sunshine? Since you wrote that, Barry has gone back on his war pledges!]
how do you know Kos is not a millionaire?

[Maybe he is! Remember "blogola" and the chocolate fountain?]

Get off your f*cking high horse!

[Leave ben burch and his horse alone.]

Listen genius - ANAL REAMING NOT GOOD!!

[LEAVE BEN ALONE!]

Seriously Kos, grow the f*ck up. No really, grow the f*ck up.

[Does anyone else see the irony in that statement? And I thought KOmmieland was supposed to be more sophisticated than DUmmieland. . . .]

If Obama did everything you wanted him to do, he would not get elected. Sad, but true. He needs to move to the center a bit (or, what is probably the case - PRETEND to move to the center a bit).

[And YOU, my KOmmie friend Joan, you win the Kewpie Doll for today! Yes, Opposum is only PRETENDING to move to the center! You got it!]

SO, STFU, and stop crying in your milk already.

Oh bullsh*t. STFU yourself, Joan, you rude asshole.

[Feel the love.]

Well, folks, it goes on from there. This may merit a return visit. We'll see. But be on the lookout for DUFUable threads over Rush's big payday! Hey, that reminds me, maybe PJ is over hanging out at Rush's place. . . .