DUmmies "Disappointed" By Obama Tossing Clark Under Bus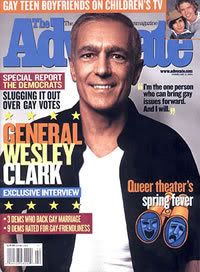 Late last night I had a vision. No, it wasn't a vision like in one of franksolich's bizarre
DREAMS
. What happened is that I woke up with a start and a sudden realization that Wesley Clark is entirely a creature of the Clintons. In fact, the ONLY reason why he ran for presidential nomination in 2004 is that the Clintons wanted someone to take Howard Dean out. Clark flopped but Dean eventually took himself out with a lot of help from a White House letter released by the Clintons that showed Dean to be a complete hypocrite in opposing unilitateral military action by the USA when his letter showed that is what he supported in the Balkans. Anyway, putting that piece of the Clark puzzle together with his incredibly stupid attack on John McCain's war record made me realize that this was most likely instigated by the Clintons. Yes, folks, they are STILL trying to take Obama down. Actually I figured Hillary would backstab Obama in the general election but now it looks like she is trying to destroy him BEFORE the Democrat convention. There is no way that Wesley Clark couldn't have known of the reaction to his statement about McCain. He had to have been put up to it by you-know-who. This is but an opening shot in the covert war by the Clintons against Obama. Meanwhile the DUmmies are playing right into their hands by slamming Obama for tossing Clark under the bus as you can see in this
THREAD
titled, "Obama has DEEPLY disappointed me (re: Wes Clark)." Divide and conquer is the Clintons game plan and it is working BEAUTIFULLY! Embarrass Obama with yet another "supporter" who has to be tossed under the bus and watch as public trust in the Obamassiah erodes. So let us now watch the clueless DUmmies jump to the defense of Clark (who is working for the Clintons) in Bolshevik Red while the commentary of your humble correspondent, doing an Obama bus body count, is in the [barackets]:

Obama has DEEPLY disappointed me (re: Wes Clark)
[You have just made the Clark controllers (the Clintons) very happy.]

"Rejected" Clark's statements about Captain Combover????????????
"Disavows" Clark's statements about Captain Combover????????????
What a chickenshit, whistle-assed, cowardly, stance.
Clark was one hundred percent right.
How many more people will the campaign throw over the side?
[The correct term is "toss under the bus" but continue...]
I'm sorry, but this pisses me right the f*ck off.
[You have just put a big smile on Hillary's face. And now to hear from the other DUmmies...]
You're not alone.
[This is completely OT but another vision I had a few years ago is that we ARE alone. I mean I don't think there is intelligent life anywhere in the universe EXCEPT on Earth. How many years have we been scanning the skys with NO response? Okay, I now return you to the subject at hand.]
I wonder if Republicans are eating their own like some Dems are? Although Republicans hate McCain, they are smart enough not to tear him apart. That's why they keep winning. Think about it.

[You are correct about our attitude towards Captain Combover.]
Obama could have easily distanced himself from the comments without throwing Clark under a bus... it's getting crowded under there... Clark, Rev. Wright, Obama's Granny...
[I think they will soon be joined under that bus by Obama's newly appointed religious affairs adviser, SHAUN CASEY ("Jesus was an illegal alien.")]
Only Clark can criticize Bush's McCain, maybe Clark would be a good VP?
[This DUmmie needs a bigtime Reality Check.]
This could be Obama's way of warning Clark not to wander off the reservation if he's chosen as VP.
[Another Reality Check for this other clueless DUmmie.]
I think that Clark is at the top of the VP list and the GOP will have seizures of anger and primeval screams when Clark is announced as VP
[Are DUmmies really this STUPID or are these LOUSY FREEPER TROLLS just trying to make the DUmmies look incredibly DUmb?]
At first I thought "This man MUST BE VP"
Afterwards I thought "This man MUST BE VP".

Sorry, I fail to see the outrage. Just the opposite. I was, and am, very proud of Gen. Clark for speaking the truth. Truth, the strength to say it AND stand by it gains my respect. Repudiating the truth teller to score political points makes me want to barf.
[DUmb DUmmmmmmies!!!]
We went at Bush's lack of NG service and got nothing. Nothing at all
[But...but those National Guard papers were fake but true.]
How many Kerry surrogates accused Bush of faking his war record?
[How about CBS News faking his war record documents?]
He defeated Hillary Clinton for the nomination after a long and drawn-out primary process.
[But who is winning the secret backstab campaign? Hee! Hee!]
I'm pissed too. Wes deserves better. All he did was clearly and succinctly say the obvious. I'll keep supporting Obama for president, but with even less enthusiasm.
[ALL is going according to the Hillary plan.]
Obama could have distanced himself from Clark very easily without disowning him.
[How is that Clark for VP idea working out for you?]
Clark was right. Obama screwed this one up just like he screwed up the Rev. Wright deal. Thankfully, Clark isn't an emotional type like a preacher is, so I doubt Clark will try to have his comeuppance. Obama didn't learn his lessons well. Ooops he did it again.
[OOOPS!]
It was a coordinated effort between Obama and Clark
You are absolutely right, that Clark is the guy to question McCain's national security credentials. Obama, on the other hand, has never served and so he can't get away with making remarks about McCain's time as a POW. So Clark goes out and says it, and then Obama distances himself from it but the American People still heard Clark say it.
[Shhh! Don't post Obama's cynical game plan in public.]
Clark just said on Abrams that he wasn't talking for the Obama campaign. But, he also said that he was right for saying what he did.

[Correct. He was talking for the Clinton secret backstab campaign.]
The truth is that McCain's service was not uncomplicated: he got shot down, which is a failure, he didn't so much as try to escape, which he's required by duty to do as an officer, and he collaborated with the enemy, albeit under torture.
[WOW! Talk about monday morning quarterbacking from a DUmmie munching on pizza in the comfort of Mommy's basement!]
The Obama camp's response was WAY off base for such a strategy. The right response would NOT have been to reject the remarks as attacks, but to distance themselves from them while leaving open the question of their validity, and if anything, showing respect for the surrogate's perspective.
[And that is what we call NUANCE.]
this is brand obama stinky. this is what they have done to defuse rightwing talking points from the beginning. i feel for ya. i want all these f*ckers taken out and shot. but, that is not brand obama. not chickenshit, diplomatic. i believe him when he says he doesn't do cower. i also believe in brand obama.
[Taken out and shot? It looks like you just tossed the Democrat shtick from years back of having a "civilized discourse" under the bus.]
The best bet is to do a variation on "good cop/bad cop". Let the seed be planted, but act like it wasn't your fault and make sure there are no traces otherwise.
[Ah! Good ol' political expediency cynicism.]
Clark did not misspeak on Face the Nation, he knew exactly what he was saying and I am sure he discussed it with Obama's strategists beforehand. The strategy is you have your surrogate go out and say something nasty and then distance yourself from it.
[Thank you for posting about Obama's incredible level of cynicism out in public for ALL to see.]
it was a coordinated good cop-bad cop routine
[Shhh! Don't reveal this in public!]
This is a ridiculous as the whole "Hillary was telling her hit men to assassinate Obama" meme.
[This is more like a "Hillary was telling her hit men to backstab Obama meme.]
It is all politics. It was a planned attack by the Obama campaign They are using the same strategy they did in the primary. Have a surrogate attack, while Obama stays above the fray. The message is out there, and Obama can distance himself from it. The problem I see this time, is that the media is not lapdogging him this time. They are questioning rather than simply repeating. That muddies up the message. They are now talking about McCain and vietnam rather than McCain and Iraq. I do not think the attack is working this time.

[Damn that compliant media for not lapdogging Obama 100% of the time!]
General Clark did not disavow the "radical" left when push came to shove. General Clark did not disavow the gay community. General Clark continues to earn my full (bleeding-heart, Birkenstock-wearing, tree-hugging liberal) respect.

[If only you knew who Clark REALLY works for. Hee! Hee!]