DUmmies Setting Themselves Up For PAINFUL Obama Loss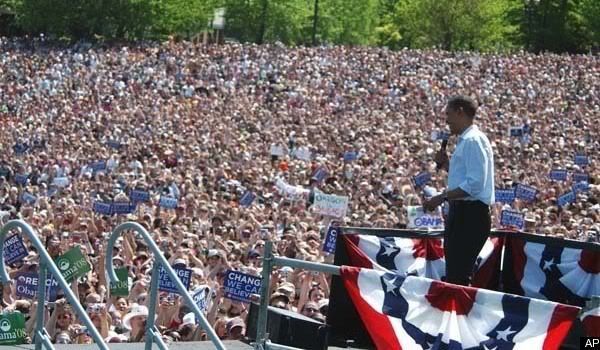 It's going to be painful. Very PAINFUL when the beloved Obamassiah LOSES this November. Look at the picture above of Barack Obama in Oregon. The DUmmies are having a major Obamasm over that photo as you can see in this
THREAD
joyously titled, "75,000 attend Obama rally in Portland!" So many people in the liberal Northwest show up to see Obama so there is NO WAY Obama can lose. Right? (Wright?) Wrong! Obama will LOSE in November despite the fact the Democrats in general will probably gain House and Senate seats. That latter fact will in no way alleviate the PAIN to be felt by the DUmmies. In fact, this Obama loss could lead to the disintegration of the Democrat party as the Obamites blame the loss of the Obamassiah on Hillary Clinton. And most likely they would not be wrong. Hillary will do EVERYTHING behind the scenes to ensure the defeat of Obama so she can be coronated in 2012. The bitter recriminations will be enormous. Bye-Bye Democrat party. But for now the DUmmies are HAPPY! They look at that photo of the Oregon rally and there is now no doubt in their minds that their beloved Obama will be victorious in November. Freudenschade, baby! So let us now watch the DUmmies again celebrate their pre-victory party in Bolshevik Red while the commentary of your humble correspondent, whose mind is still fixated on a freebie
KINDLE
, is in the [brackets]:

75,000 attend Obama rally in Portland!

[Freudenscahde, baby! It's all over! Let us now celebrate the accension of the Obamassiah!!!]

75,000! that tells you something!

[It tells me you will have a very PAINFUL experience in November. Thank you, Hillary!]

They had to take the picture from a distance, didn't want to distress the nation by showing so many "bitter" faces all in one place. . .

[I'm going to enjoy closeup shots of bitter DUmmie faces in November.]

Can you imagine what it must have been like for Obama looking out on that sea of mostly white faces cheering him on to finally get rid of the Bush cabal? Oh, the times they are a'changing. Get hip to it, folks.

[I'm imagining what it will be like looking out on a sea of mostly deranged DUmmie faces melting down in November. Thank you, Hillary!]

I believe thats the same spot where kerry did an appearance last go-round, and people were packed in for blocks around.

[Oh really? And how did Kerry do in November, 2004?]

My husband is at our house in Portland, and he got to watch full coverage on kgw tv. Here in Central Oregon, I got to see it for a few minutes on CNN with the crowd sounds muted by CNN. DH said he really enjoyed hearing Obama speak.

[And was he healed by the Obamassiah?]

well, John Kerry's 2004 rally was estimated at 40-50,000...
...and then the fire marshal started turning people away.

[So the Obamassiah should be as lucky as Kerry was in 2004.]

You know who else used to get those numbers at his rallies? JOHN KERRY IN 2004!!!!!!

[And they will both end up with the same results.]

This is enormous... bigger than any rally for a single individual I have ever heard of. How does this compare to other "huge" rallies in the past? Do any of you know of rallies with more people than this?

[Most any NASCAR race.]

What do you think the Republican leadership does when they hear numbers like that?

[Relax and let Hillary do their work for them.]

Obama will go down in the history books for a whole host of reasons! GOBAMA!!!!!!

[Biggest letdown in history?]

Texas and Indiana were definitely swung by Limbaugh votes.
Ohio was a wider margin of win for Hillary, but it appears that at least 5-7 of her points were Limbaugh crossovers. If the Limbaugh crossovers were taken out, Hillary would have won several fewer states, including the pop vote in Texas and Indiana.

[Thank you for acknowledging the SUCCESS of Operation Chaos.]

I am going to have "election" finger food for the two of us here, with our dogs, complete with lattes from our home machine to watch the returns.

[And the November election results will be giving you The Finger.]

They better just close up DC on Inauguration Day !

[Due to disappointed DUmmies running amok.]

It's an Obamopolis! Where Obama goes, cities spring up!


[After November, you will be cooking beans over the fires in your Obamaville hovels.]

We're here, we're clear, we're all out for Obama, get used to it!

[Will it be possible to get used to your temper tantrums in November?]

The Obama campaign has been brilliant in Oregon. And they are going to win big. Big I tell you. Big.

[We have a Rubber Room reserved for you in November.]

Hopefully, the biggest landslide in Presidential election history.

[The landslide loss will be big. Hee! Hee!]

Obama is now the "Presumptive Next President of the United States"

[Along with Presumptive Next President Tom Dewey.]

Not even the pope got that kind of crowd...

[The Pope is running against the Obamassiah?]

This is not a campaign. It's a movement!

[The Annunciation before the Renunciation!]