HUffies Angry At Rush Limbaugh's Operation Chaos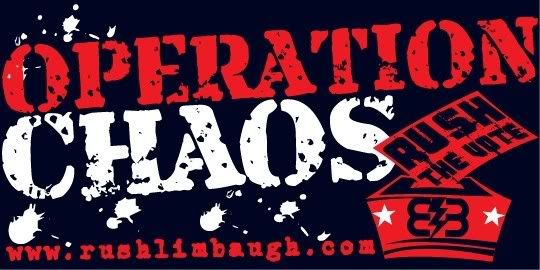 The mainstream media might try like hell to avoid mentioning the OBVIOUS effect of Rush Limbaugh's Operation Chaos on prolonging the Democrat primary but the HUffington Post HUffies sure know who to blame. Come to think of it, both John Kerry and the Obama campaign have credited Operation Chaos with giving Hillary her slim win in Indiana. Of course, some people like Pied Piper Pitt think an extended and bloody Democrat primary is a
BLESSING
but that observation can be chalked up to both grandstanding and an excess of Bukowski's brew. The HUffies themselves are somewhat more rational than the Pittster in assessing the DEVASTING effect of Operation Chaos upon the Democrat party as you can see in the comments section of this
HUffie STORY
titled, "Rush Limbaugh Now 'Backs' Obama." So let us now join the HUffies in full fury at Operation Chaos in Bolshevik Red while the commentary of your humble correspondent, noting that Hillary STILL continues rising from the dead like Michael Myers, is in the [brackets]:

This piece of human waste should be locked up for interfering with elections.

[Will he be locked up in the same cell as KOmmie KOs who suggested Democrats should cross over to vote for Romney in the Michigan primary?]

I cannot believe so many people listen to this narcissistic, egotistical gas-bag. It is my sincere hope that Rush will fade into obscurity once Obama wins the Presidency in November.

[If that happens the Democrats will bring back the "Fairness Doctrine" also known as the "Hush Rush" bill.]

Rush Limbaugh is plain and simple a freak show - he runs a bonafide cult-like brainwashing operation in broad daylight preying on the young and impressionable, crippling their critical thinking abilities and reducing them to pathetic ditto head simpletons " he sends out his legion of obedient dolts with orders to antagonize good hard working people, pervert honest systems and otherwise wreak havoc where ever they can - this is his contribution to America, nice legacy there Rush.

[Mind-numbed robots all across the fruited plain.]

With a new administration, you can bet there will be serious talk about re-instating the Fairness doctrine and with an all-dem majority, oh man, will that be fun to watch....

[Anyone out there now doubt that the "Fairness Doctrine" really means Hush Rush?]

But perhaps the worst thing about what Limbaugh is doing is the psychological impact on people about the election process. He is mainstreaming the idea that it is OK to tamper with the vote. It is like any propaganda; the first reactions of most people is shock and outrage, but after a while, it becomes the acceptable norm for this sort of behavior. But it is not acceptable, it is not ethical, it is not even legal in many states. In fact, I'd go so far to say as corrupting the democratic election process is about as un-American as you one get.

[Perhaps you should have thought of that when thousands of Democrats, convinced that Obama would easily win in New Hampshire, crossed over to vote for McCain which caused Hillary to win that primary. Ironically Operation Chaos would not have even been possible had you Democrats not given new life to her campaign in NH when you crossed over to vote in the Republican primary.]

I may be wrong, but isn't it against the law for a single political party to have its own radio show on public airways during an election.. Rush doesn't even pretend to be anything other than a republican shill anymore.

[Meanwhile Blowhard Ed Shultz got his national radio show start with seed money from the Democrat party.]

Obama is obviously the weaker candidate. The whole point of Operation Chaos was to have Obama as then nominee, but to have ideology and background exposed courtesy of other Democrats. Simply put, Rush devised and carried out a plan to do what the MSM would not.

[A Kewpie Doll to you!]

Rush is brilliant. Operation Chaos has worked like a charm. There is no question that cross-over reublican voters have prolonged the Democrat election process, and in so doing forced Obama and Hillary to attack each other and dig up the dirt. He knew the MSM would tried to provide cover for the Dems, and he played the Dem candidates like pawns...making them do what the MSM would not.

[William Rivers Pitt has called the prolonged Democrat primary a "blessing."]

There are a few people whose pictures I cannot stand to see either on line or on TV, my reaction is to throw something through the screen (no I haven't done it-yet). Of course George W. Bush and the entire Bushit family are one, also the Cheney family, Tucker Carlson, Elizabeth Hasselbeck-and of course Rush. Do we really need to see what this asshole looks like again? We all know he is repulsive.

[Feel the love!]

People listen to Limbaugh voluntary at a number that makes you guys drool, 20 million people. Name one liberal commentator who can touch the ratings of Rush or even Hannity.

[Jim Hightower?]

This man should have been dethroned years ago. I fail to understand why he can openly subvert democratic efforts, yet people listen to his evangelical politics. It was only a few weeks ago that he was telling everyone to vote for Hillary, since McCain would have an easier time beating her. In his mind, no woman should hold any public position. Now he sees that Obama will most likely be the candidate and in his mind, no man of color should hold any public position.

[Another HUffie who completely misses the point of Operation Chaos.]

Why isn't the FCC stepping in to stop him. He is tainting our election system and they don't find it wrong. It's wrong to curse on the shows but not wrong to encourage people to go out and cast false votes. He's making republicans look bad. He is truly making them look like race-baiting liars versus the truthtellers they supposed to be. Makes me wonder what is truly a republican or as they say conservative. Are they the symbol of the confederate flag or the symbol of the American flag?

[Why isn't Rush being censored? Please, please Hush Rush!]

I compare rush to something I flushed down the toilet about 15 minutes ago. Except Rush smells worse.

[A HUffie makes an "intellectual" argument against Rush.]

I totally agree on the premise. If not for Limbaugh Hillary would have lost Indiana. I know several conservatives in Indiana who are Limbaugh aficionados (yeack) and I can see them voting for Hillary. We need to fix the election system

[Gee, like making primary voting CLOSED to voters from other parties or independents? If that is the end result of Operation Chaos, then it is a very good thing.]