Part II: Firestorm Erupting Over Hillary's Attempted Grab Of Stripped Delegates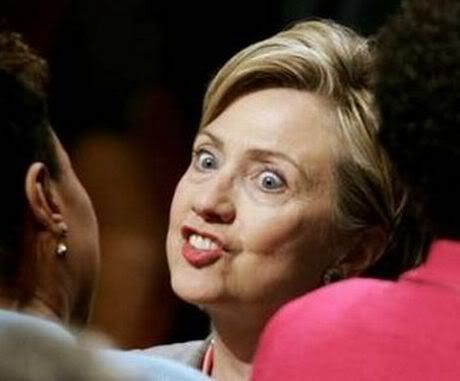 This is a continuation of yesterday's DUmmie FUnnies EDITION in which the Daily Kos KOmmies are in an uproar over Hillary trying to change the campaign rules by allowing the Michigan and Florida delegates which were stripped by the DNC to be allowed to vote at the convention this summer. You can see this outrage in this KOmmie THREAD from yesterday titled, "Hillary Clinton to Howard Dean: Screw you." I am doing this special second part DUFU for two reasons. One is because this KOmmie thread was so long it was almost impossible to cover all the responses in just one edition. I am also giving it an extended DUFU because I believe this will be the most heated controversy of this campaign year. Now that Barack Obama scored a huge victory yesterday in South Carolina, Hillary will need every delegate she can scrape up including those who are not allowed to count by the DNC. Although this controversy is already causing a firestorm of outrage in the Leftwing Blogosphere, there is barely a notice of this in the MSM. Once again the Web will lead and the MSM will follow. Of course, Tweety Matthews will cover this story only after others have done so since the Hardball host has been turned into a literal castrati by the Hillary gang over criticizing Her Highness just a bit too much. So let us now revisit the KOmmies in an uproar over Hillary wanting to change the campaign rules in her favor in Bolshevik Red while the commentary of your humble correspondent, savoring this political feast almost as much as the Seminole Casino $5.99 prime rib buffet special, is in the [brackets]:

Hillary Clinton to Howard Dean: Screw you.

[BTW, WHET Howard Dean? He seems to be MIA.]

I do not think Hillary won Michigan fairly, since I believe she got the endorsement of Governor Granholm after Clinton fundraisers gave Granholm's campaign a huge amount of money. Seating Michigan delegates also leaves out the many voters of Michigan who were only permitted to vote as "uncommitted", and could not write in either Obama or Edwards.

[Yeah, being the ONLY candidate listed on a ballot does tend to give you an advantage.]

Bill said that people in SC will be voting based upon race and that's why Hilary will lose in SC. He's despicable.

[I like the way Sylvester the Cat says "despicable."]

This is one of the MAIN reasons why a Clinton victory would be disastrous for the Democratic Party. All of the hard work that the progressive/netroots put in to changing the focus and direction of the party will be lost in one fell swoop.

[Sounds good to me!]

It just reinforces the stink coming from the Clinton campaign. They do not even have to do this, as Hillary can win otherwise, but they seem to be pulling out all stops it seems. Very ugly.

[You haven't even begun to see ugly until after Super Tuesday if Hillary doesn't do well then. Oh, and if Obama wins the nomination it won't even stop there. Hillary will ENSURE that he is defeated in the general election. Her wrath knows no bounds. Ugly? We are talking SCORCHED EARTH here.]

If the Clinton campaign puts the full-court press on to seat the FL and MI delegations, the very first thing that will happen is that both Obama and Edwards, and probabably all of the other Democratic candidates (not to mention the Republican candidates and a bunch of votes from other states who voted from one of the other caiddates) will sue the DNC and HRC in federal court on a variety of counts, including fraud, misrepresentation and due process violations. If this happens, there will be WWIII within the party.

[A very pleasant scenario.]

the clintons must lose the nom because i can guarantee you that michael bloomberg will make it IMPOSSIBLE for her to win!

[I knew there was an upside to that irritating little mayor.]

I will be f*cking pissed, as a Michigander, if they seat those fucking delegates at the convention. I will be fuming. Sen. Clinton had to do nothing to earn those votes in that state. There was no campaigning. She never brought her message to the voters. She never faced challenges from her opponents. She never had to do a goddamn thing to maintain her lead in the state. Citizens weren't able to work on campaigns and canvas their neighbors. It would rip the party apart if two rule breaking, noncontested states are what decides the nominination.

[I'm already drooling over the prospect of all the terrific DUFU material that would be provided by that scenario.]

Of course this was going to happen. I find it hard to believe that anyone should be shocked by this. There is a reason why Hillary left her name on the ballot, and it seemed pretty obvious: she planned to win these delegates and then make the DNC seat them, which is a HUGE deal when you add Florida. I wonder why no one gave her a hard time when she left her name on the ballot? Could it be that this was planned? Well, it's the Clintons, you bet your ass it was planned!

[That's a bet that you'll win every time.]

Trying to undermine Howard Dean and marginalize Obama. She's going to take the whole party down.

[I knew there was a positive aspect to Hillary.]

Personally, I read the press release and wanted to punch a hole in the wall (and I don't usually have anger problems, heh). It might not technically be cheating, but it's certainly classless - and I'm sure I'm not the only person who thinks so.. If Clinton had been so vocal before the primaries were held, to get the delegates seated, that would be one thing. But, she waited until after Michigan was a done deal to make this a big thing again.

[A note from a potential hole puncher.]

No lie or cheating is beneath the Clintons in the pursuit of their own power.

[Your Kewpie Doll is in the mail.]

It is now crystal clear that I will never vote for HRC. If she was opposed to the nomination process she had a chance to speak up when they were changing their primary. You can't change the rules in the middle of the game. The only question remains will I actively campaign against her.

[Bloomie and Ralphie will be on the ballot this November.]

The Clintons would rather see the DNC and the Democratic Party fragment into shards than lose control of this election, lose a chance at another eight years in the White House for themselves, lose their neck hold on the Democratic Party. This is slash and burn politics.

[I prefer the term Scorched Earth politics but I will accept your description.]

The primary schedule for Dummies.

[Massive bong hits on Monday nights. Sleep thru election day on Tuesdays.]

i'm sick of Billary's bullshit already. I can only imagine how many republicans will turn out to oppose them. They are destroying this party with hopes of establishing their own Harold Ford-run DLC that will collect all the lobbyists and do the same shit Tom Delay's been doing for years. its so sad to see a great moment for real change get passed up by the greed of a former president.

[More FUnnie than sad.]

I had a sinking feeling when I read that Edwards and Obama had taken their names off the Michigan ballot and Hillary had not.

[Hee! Hee! Lucy pulls the football away AGAIN.]

I must pray. Oh, Almighty Lord, please save us from these wicked folk who are destroying our party and the opportunity for real change.

[And don't leave out Goddess Gaia.]