"Democrats say McCain nearly abandoned GOP"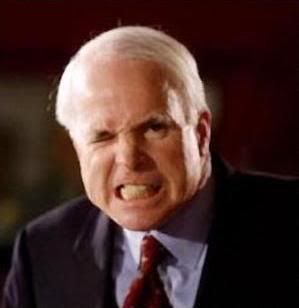 Imagine nominating someone for president when the opposition party has the goods on him in terms of being a backstabber willing to abandon his own political party? That is exactly the case with John McCain as you can see in this
ARTICLE
titled, "Democrats say McCain nearly abandoned GOP." This article details how in March 2001, McCain's chief poltical strategist, John Weaver (now a Democrat), approached a Democrat ex-congressman about McCain quitting the Republican party. This was at the same time that the Democrats were making such appeals to Senators Jim Jeffords and Lincoln Chaffee. The ex-congressman, Tom Downey, said he was surprised when Weaver proposed a possible party switch by his boss. You can read the full details about it in The Hill article. So why are so few Republicans aware of McCain almost splitting from the GOP? Because both the Democrats and the MSM want to wait for the most convenient time to release this information...namely after his nomination. Meanwhile the DUmmies are now eager for the nomination of McCain due to the future exposure of this story in a big way as you can see in this DUmmie
THREAD
accurately titled, "Democrats say McCain nearly abandoned GOP." So let us now watch the DUmmies anticipate the nomination of backstabber John McCain in Bolshevik Red while the commentary of your humble correspondent, hoping that Republicans wake up from their mental lethargy by next Tuesday, is in the [brackets]:

Democrats say McCain nearly abandoned GOP

[You can bet they will be saying that really loud after a McCain nomination.]

Source: The Hill
Sen. John McCain (R-Ariz.) was close to leaving the Republican Party in 2001, weeks before then-Sen. Jim Jeffords (Vt.) famously announced his decision to become an Independent, according to former Democratic lawmakers who say they were involved in the discussions.
In interviews with The Hill this month, former Sen. Tom Daschle (D-S.D.) and ex-Rep. Tom Downey (D-N.Y.) said there were nearly two months of talks with the maverick lawmaker following an approach by John Weaver, McCain's chief political strategist.
Democrats had contacted Jeffords and then-Sen. Lincoln Chafee (R-R.I.) in the early months of 2001 about switching parties, but in McCain's case, they said, it was McCain's top strategist who came to them.
At the end of their March 31, 2001 lunch at a Chinese restaurant in Bethesda, Md., Downey said Weaver asked why Democrats hadn't asked McCain to switch parties.
Downey, a well-connected lobbyist, said he was stunned.

[And I'll be stunned if the Democrats don't use this information against McCain IF he is the nominee. Be sure to check out the entire article in The Hill because it goes into quite a bit of detail. And now for the DUmmie reaction...]

If true, this could kill his nomination

[From your lips to Republican ears. For once I hope that a DUmmie is right.]

Flip this around. If you heard that Clinton or Obama had been contemplating leaving the Dems would you vote for them? Hell no you wouldn't. This will get very interesting!

[There would be an UPROAR over something like this from Democrats. Hopefully Republican voters will get a clue as well.]

Oh yeah! Needs to be said, read, and SPREAD! Definitely a keeper!

[Psst! Be sure not to spread it until AFTER McCain is nominated. Why do you think so little publicity has been given to this until now?]

Yeah this should definitely be news...and could be damaging in the primaries

[It COULD be but only if enough Republicans find out about it by next Tuesday.]

But it really is a double-edged sword and ironically may help him in the general election - after all it goes with the whole maverick myth persona propagated by the media over the years.

[I don't think being exposed as a back-stabber is exactly helpful to a campaign.]

Push this story everywhere you can. The GOP doesn't like McCain, and he is working hard to win them over. This is a great opportunity to throw a monkey wrench into that effort.

[Are you sure you're not a LOUSY FREEPER TROLL?]

What are the consequences of pressing this story now?

[Keeping McCain from being nominated. I like those consequences.]

Remember in 2004, when he was talked about to be Kerry's VP.

[Kerry wouldn't have approached McCain if he didn't think Big Mac was willing to split the GOP.]

I just realized this article is from last March... clearly it didn't come out in the MSM.

[Don't worry. It will come out in a HUGE way in the MSM...after a McCain nomination.]