Sen. Mike Gravel: "Why Hillary Scares Me"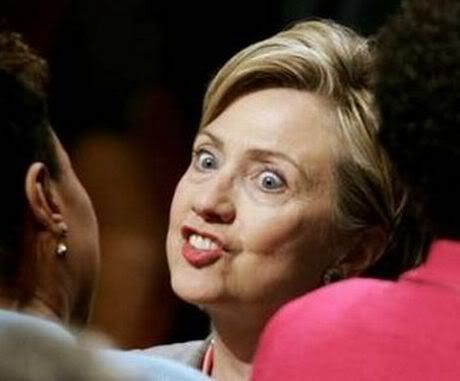 I'm growing sort of fond of the Potted Plant, aka Mike Gravel. Perhaps it is because, despite disagreeing with him on almost everything political, I find his bizarre eccentricity refreshing in this era of manufactured candidates. And should you doubt that Gravel is eccentric, then I invite you to take a look at his campaign VIDEO where he stares wordlessly into the camera for several minutes followed by him tossing a large rock into the water and then just walking silently off into the distance. Gravel subsequently informed us that the "metaphors" in his video were obvious. Me, I'm still scratching my head over it. In addition to this offbeat quirkiness, another big factor in the appeal of Mike Gravel is his willingness to take on Hillary Clinton as you can see in his HUffington POST titled, "Why Hillary Scares Me." So let us now watch Mike Gravel cast aspersions upon Her Highness in bright Looney Tunes Red while the commentary of your humble correspondent, warning the Potted Plant not to toss any rocks in the water at Fort Marcy Park, is in the [brackets]:

Why Hillary Scares Me

[Especially after looking at that picture above.]
During one of the debates I mentioned that my fellow Democratic candidates scare me. Hillary's speech last week to the Take Back America conference gives me yet another reason to be afraid.

[Be afraid. Be VERY afraid!]

In an indignant voice she decried the Bush administration's ''stunning record of secrecy and corruption, of cronyism run amok. . . It is everything our founders were afraid of, everything our Constitution was designed to prevent.'' Actually, our Constitution grants Congress the power to prevent these ills but Hillary and her colleagues weren't up to the task.

[Secrecy and corruption and cronysm...oh my! Was she having a flashback to Bill's presidency?]

Our founders' legacy did not stop Hillary from voting for the Patriot Act and then supporting its renewal in 2006 despite revelations that the government was using it to infringe on the very liberties that our founders held sacred. Where was her commitment to our founders when she voted to gut our habeas corpus protections?

[Don't worry. Hillary will eventually say something like "knowing what I know now, I would never have voted for the Patriot Act."]

As for cronyism -- Hillary has repeatedly authorized billions that the Pentagon gave in no-bid contracts to Halliburton. Even though the Democrats have been in control of Congress for months, they still haven't summoned Wolfowitz, Rumsfeld and the other usual suspects to account for the missing millions in reconstruction funding.

[As for cronyism -- look no further than her chicken swallowing kid brother, Baby Huey.]

Hillary, as an active supporter of the war, you are one of many Americans who are guilty. And now all Americans are left responsible, regardless of whether we supported or opposed he war.

[An active supporter of what she now calls Bush's War.]

The inability to admit a mistake and assume responsibility is not just a morally bankrupt way to walk through life; it is a dangerous and deadly way to lead a nation. When I am president, I will open up all secret files relating to the Iraq war and expose all officials who lied to the public in promoting it. (That's right, Dick, your files too.) My Justice Department will prosecute everyone who lied under oath or ripped off the American taxpayer by exploiting the Iraq reconstruction effort. And I will pardon to no one.

[But will you still toss a large rock into a Camp David pond when you are president? And now to hear from the rest of the HUffies...]

Earthlings Unite!

[The aliens are attacking with pond rocks through the Gravel Dimensional Door!]

A Hillary Clinton primary win, virtually assures a GOP win in November.

[Thanx for the GOOD news!]

Democrats like me will vote for anyone but Hillary. Hell I would vote for shrub before I would vote for her.

[Does Cheney also have your vote?]

Read any one of hundreds of polls that tell you almost a majority of American's would UNDER NO CIRCUMSTANCES vote for her ... ever. Why is that so hard to understand? That means she has to win every other vote, every Democrat, every Green, every left leaning Independent. That's not likely in the slightest, not even for the Democratic voters, as evidenced in abundance by commenters here. The inescapable conclusion is that supporting her primary candidacy is nothing short of supporting *whomever* the GOP chooses.

[The news is getting better!]

If my choices are her, or some other right-wing nut job, I'll find at least one or two sane third party candidates I can vote for with a clear conscience.

[That sanity bit might be a tough requirement but go for it!]

Democrats need to stick with candidates like Gravel, because we need people who openly oppose corporate influence. That is the elephant in the room.

[It appears the Hillary elephant is taking a big dump in your room.]

Gravel does a very good job of biting at the heels of shills like HRC, however.

[Gravel is also known for biting carpets as well.]

I think it would be easier to sell the public on NO TAXES. Go back to a system where we use Tariffs. Then tax energy imports (like Ross Perot suggested). The fewer points in the Nexus of taxation, the lest cost it is to get the revenue. Businesses and individuals would instantly have about 10% more work time available.

[Hillary is sure to support that...NOT!!!]

You hit hit it right on the head! Hillary is about as trustworthy as her husband. Clinton had to be dragged kicking and screaming into admitting anything about the Monica Lewinsky affair.

[The Blue Dress silenced her.]

Well said; and if we have any luck at all Hillary WILL NOT GET THE DEMOCRATIC NOMINATION. If we have any luck...

[Sorry. You're OUTTA luck!]

Meanwhile, she's making cutesy commercials with Bill that have been received in some quarters like the second coming of Lucy and Desi Arnaz.

[Oh RICKEEEEY!!! You spilt more presidue on a blue dress again! Oh RICKEEEEY!!! I wanna be president too and sing Babalu in the Oval Office!]

This is your last warning, fellow Dems, nominate Hillary and the party is finished.

[HILLARY '08!!!]

The Clintons and the Bushes seem inseperable. I wonder if they met in a swinger's club.

[The club where Hillary was looking for Bush.]

Bloomberg is contemplating the same. It won't work beyond reducing the Democrats chance at winning.

[BLOOMBERG '08!!!]

Face the facts. She is bought and paid for.

[Peter Paul wants his money back.]

Personally, I would prefer to be blown up by terrorist in a massive explosion than face the rest of my life with economic evisceration by the globalist free trade freaks.

[May we turn you over to Al Qaeda tomorrow?]