"I HATE HATE HATE HATE HATE THEM!"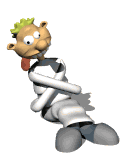 Is there a psychiatrist in the house? I say, is there a psychiatrist in the house? A shrink is definitely needed to analyze a
THREAD
posted in her rubber room by DUmmie xultar, "I have to confess that I have a very deep dark hatred for conservatives right now." You have to actually see the thread itself to fully appreciate the madness of DUmmie xultar since she wrote ""I HATE HATE HATE HATE HATE THEM!" in bold headline sized letters burning Bolshevik Red hatred. This DUFU edition is MUST READ folks for anybody who wants to see the true face of liberal hate once the mask of fake civility is ripped off. As to the rabid DUmmie xultar, I do believe this thread puts her in strong contention for DUmmie of the Year. I thought that repeat winner, WILLIAM RIVERS PITT, would be a shoo-in with his thread posted under the influence of Bukowski's beer threatening violence upon the homeless woman Bobo the Hobo but I think this posting by DUmmie xultar might beat that out for its sheer lunacy. So let us now watch DUmmie xultar post hate in burning Bolshevik Red while the commentary of your humble correspondent, getting the rabid foam mop ready, is in the [brackets]:

I have to confess that I have a very deep dark hatred for conservatives right now
[Feel the LOOOOOOOOOOVE!!!]
I'm past angry...WTF comes after that I don't know.
But I hate them.
I HATE them
I HATE HATE HATE HATE HATE THEM!
[Could you elaborate on that, DUmmie xultar? I'm still not sure where you're coming from.]
I have a burning...nagging hate + Anger x 10 thing going on. I don't feel right. I don't feel normal like I did before, I feel different. I don't like this new feeling. It is impacting my dreams and how I view republicans and teabaggers.
[The scientific term for your condition, DUmmie xultar, is LOOOOOONY!!!]
When I think of them I see them as different than us...like when I see them and they have a pet I wonder if they love their pets as much as we love our pets. I can't see how they can be as racist and evil as they are and still love pets. I'm trying hard to get over this but the more they lie and shit on Obama the more I hate them. The more I HATE them.
[My pets are DUmmie ants. And I love observing my DUmmie Ant Farm to see how they are reacting to the latest election returns. Thanx for the entertainment, DUmmie xultar. Now continue with the show.]
The fact that they are concentrating on removing Obama instead of jobs for the people they represent is f*cking nutz. Not so nutz if you think about it is because if they get jobs then Obama will stay in office. So it seems that the f*cking republicans are going to make things get worse on purpose just so they can bring down a black man. Those f*ckers are willing to let MILLIONS suffer just to bring down ONE black man.
[DUmmie xultar, an expert on "nutz."]
That is some EVIL shit. What is funny though is that the idiots who voted for those f*cking cons...did it so they could get jobs. They didn't f*cking know that the GOP = the corporations and the corporations want tax breaks and the only way they will get the tax breaks is to f*ck with OBama and the only way to f*ck with Obama is to hold back the f*cking JOBS!!!!!!
[Which would you prefer today, DUmmie xultar? The lithium cocktail or the leather restraining straps?]
They are inflicted with amnesia and ignorance to the nth degree.
[And guess who is inflicted with blind hate to the nth degree, DUmmie xultar?]
I am steaming with the thoughts of this in my head. It is making me bitter and hateful and I hate it. I hate them.

[And now we go from the rubber room rantings of DUmmie xultar to the rabid rants of her fellow DUmmie inmates...]
Join the club sister.
[Us DUmmies are ALL strait jacket loons!]
I'm even beggining to hate independents who keep switching back and forth seems to me they are to ignorant to vote.
[DUmmie xultar back and spreading her hate.]
I feel sorry enough to want to put them out of my misery.
[I don't feel sorry enough not to post your rantings for all to laugh at.]
If I were doing shit to f*ck my shit up my parents would put my ass in a hospital.
[Umm... DUmmie xultar, did you ever stop to think that you are like that guy from "Shutter Island" and have been ALREADY been committed to a hospital?]
I feel like they need to be hospitalized until they can think clearly on their own without being brainwashed by other idiots and rich people who want them to do their bidding.
[That technique has already been tried in the old Soviet Union, DUmmie xultar.]
I think I'm gonna need Valium as well. I might slap someone.
[Valium? Methinks you're already past the lithium stage, DUmmie xultar.]
I've hated them like that for DECADES.
[CENTURIES!!!]
You're not the only one! I've hated them for decades too. But they didn't have anything like the kind of stranglehold they have on the media years ago, and there wasn't any goddamn Citizens United decision saying they could throw unlimited cash into their smear campaigns. So there's lots more to hate them for now.
[Ummm... Guess which party had more money to spend in the last election?]
These shits are trying to destroy anything positive that remains of what was once the US. If only Obama would learn the lesson that those across the aisle, and many within his party, ARE THE ENEMY and should not be tolerated to any degree. But he won't. Maybe he is incapable of learning. Or maybe he just does not want to. Regardless, if more people felt the anger that you (and many) are AND directed it at the proper targets, there might be a chance to save the future. But being willing to work with an enemy like the republics and their ilk is a guaranteed path to failure (from our point of view - from Obama's, I am not sure).
[Somehow I am getting the feeling that the DUFUs are going to more entertaining than ever for the next couple of years.]
I loathe them. Sometimes I hate them, but I always loathe them.
[Do I have any bids for "detest them?"]
IMO, Obama has the bully pulpit, and he needs to be the one to give the Republicans the therapy they need. There should be a continuing televised debate. I'd like to see Obama respond in real time to old tortoise beak McConnell.
[Actually Obama has the telemprompter pulpit and WE input the script for the next couple of years.]
I know how you feel. I have felt this deep hatred myself. When Tony George created the Indy Racing League, a racing series that catered to the white bread middle Americans who support the likes of Sarah Palin and the Teabag Party, I was consumed with hate. I encourage you to use your hatred to spur you to action and achieve great things.
[Oddly enough, I agree with you about Tony George and the Indy Racing League. The Indy 500 used to be a month long version of a Midwest Mardi Gras chock full of rowdy drunken fun until Tony George introduced the Indy Racing League. After that the Indy 500 was only a pale shadow of its former self. I used to go every year for a full month until Tony George destroyed it. I HATE HATE HATE HATE HATE HIM!]
Try hating them for 40 years. Many sleepless nights
[Good news! This past week I picked up about 80 boxes of FREE Sominex with my coupons. I'll trade you my Sominex for your 100% leather restraining straps.]
Thinking of them now remids me of my KKK nightmares... I think that is where some if this is coming from. Back then I couldn't do shit. Now I can...and I don't want to hurt anyone or get into trouble. I think it is best to ignore until I cool down. I think Mitch McConnell sent me over the top this morning.
[Keep speaking incoherently, DUmmie xultar. The shrink is taking notes.]
For eight years they pillaged, figuratively AND literally, our country and others for purposes of concentration of wealth and power. They are responsible for the deaths of millions, injury to millions, fomenting of hate on both sides of issues, destruction of at least one country and its institutions, an increase in income gap the likes of which we haven't seen in our lifetimes, the demonization of unions/middle class/teachers/unemployed/science/knowledge/black people/brown people/muslims, etc....AND, ON TOP OF THAT, THEY MANAGED TO DEFLECT BLAME for the consequences AND PLACE MUCH OF IT ON THE DEMOCRATS by smearing, lying, deceiving, buying media, and scaring the gullible.
[I know you're trying, DUmmie wiggs, but you're just going to have to work a bit harder if you have any chance of beating DUmmie xultar out as DUmmie of the Year.]
These thugs raped this country and world for 8 years. The stupid people gave Bush congress for 6 years. Bush and company(including their teabagging thug followers) used every tactic/excuse to silence their critics. Now, these same thugs who told us to shut up and get in line are actively working to defeat Obama. I spit on country "music" for what they did to the Dixie Chicks (though I always have seen country and their backward way of living as being garbage) and wish to see failure among any "artist" who plays that horrid genre of "music".
[Not quite good enough, DUmmie Dawson Leery. DUmmie xultar still seems to have a lock on the DUmmie of the Year award.]

Amen, Dawson!!! Country Music is butt-scratching Neanderthal music -- a music of racial intolerance and "patriotism" ("Ah luvs me mah truck an' mah country, yee-haw!!!" Gag!) And by the same token, I f*cking hate rap music too -- a music that glorifies violence and misogyny ("Got my nine cocked -- gonna f*ck me some ho's" Gag!) Both forms of "music" can go to hell.
[Nice try, DUmmie alanquatermass, but you're going off-topic with your hate. Could you please keep it focused on EVIL Republicans?]
I am trying to hold it together. I yelled @ a guy election night in a lounge.
[A lounge, DUmmie xultar? Are you sure you don't mean a ward?]
I am trying to meditate and really I think I'm going to avoid the news for a while.
[Avoiding reality should also help, DUmmie xultar.]
Watch some comedies on TV or movies and drink plenty of wine - you'll soon feel right as rain!
[Inhaling chloroform is also helpful.]
I despise them and wish them nothing but pain and misery.
[Another DUmmie love note.]
I love everyone on DU, but today, I love you the most. But hatred takes so much out of you. It cheapens you, it wears you down. Rage, rage...and then bring it back to the table as something constructive. Hate can prevail, but only for a short time.
[So you recommend replacing hate with rage?]
I ended up yelling at a tech guy today, he wasn't even from the US. and he was Trying to help me. I gotta get a grip
[LOL! DUmmie xultar screeching at some poor guy from India on the phone trying to give her some computer help. Any doubt now that this DUmmie is totally over the edge?]
i hate republicans. and i hate to hate! dammit, but i do. i hate their tactics, i hate their lies, i hate their greed. the motherf*ckers. i hate what they did to this country and what they now plan to do. i hate 'em. just can't help it. they suck so, so hard.
[A DUmmie so consumed by hate that it caused a massive doody explosion in his diaper.]