Rush Limbaugh Reads Article By DUFU Author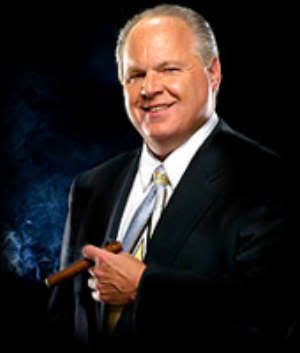 WOW!!! An incredible day for your humble correspondent. A little after 2:00 P.M. I am driving in the car and suddenly hear Rush begin referencing a VERY familiar article. Familiar because I wrote it. At first Rush didn't get my name right so I was yelling out my name as if he could hear it and correct himself. However, he soon got my name exactly right. Here is that portion from the Rush Limbaugh Show
TRANSCRIPT
:
By the way, for those of you, the familial audience here (and you know this), when I say, "I wonder if my audience realizes how fortunate they are," what you know is that that's a media tweak. I'm saying that 'cause I want the left to say, "Do you realize what Limbaugh said? He actually said he wonders if his audience realizes how fortunate they are!" You and I know what's going on here. This is the dirty little secret. In fact there's a guy. P. J. Rednick? J. P. Bladnick? J. R. Ewing? Let me find it. P. J.? It's in the DC Examiner. Where did I put the...? P. J. Gladnick I think it is. Yeah, here it is. "The Rush Limbaugh Challenge," P. J. Gladnick. "I have found a fascinating phenomenon among liberals. They feel free to harshly criticize Rush Limbaugh yet rarely, if ever, listen to him. And when they do hear him it is in carefully selected brief excerpts or in second- or third-hand accounts. This leads to a lot of misconceptions on their part.
You can read the original article about the Rush Limbaugh Challenge in the Washington Examiner HERE. If you notice, the Rush Limbaugh Challenge is open only to non-moonbat leftists which leaves our own troglaman out. But don't feel bad, Troggy. None of the DUmmies qualify either. However, enough about the trog. Back to my favorite subject...MEEEEEEE!!!! And here Rush mentions your humble correspondent again in his conclusion:
So here's urging people to take the "Rush Limbaugh Challenge." This is in the DC Examiner opinions on yesterday afternoon. It cleared about four o'clock in the afternoon, and the point is that he's right.
The strange thing is that until I heard Rush today I was in a bad mood. Luck did not seem to be happening for me in a project I was working on. However, as soon as I heard Rush, my luck instantly changed. Everything went my way. I am only sorry I didn't make a beeline for the Casino. With that Rush Luck working for me I bet I could have won a bundle at the Cleopatra slot machine.
Now I am wondering if the Rush Luck will work its mojo for DUFU co-conspirator Charles Henrickson who is now attending the big Lutheran (LCMS) convention in Houston where they are getting ready to either re-elect their current president or choose a new president. Got that? Choose a NEW president. I mention no names so as not to jinx it but you can probably guess who I am rooting for.
One final note. The experience of having Rush mention your name and read your article over national radio is certainly surreal. It was kind of like having a giant invisible finger pointing out of the radio directly at me.
Okay, we will soon return you to the regular DUFUs.