DUmmies Massage Al Gore Sex Charges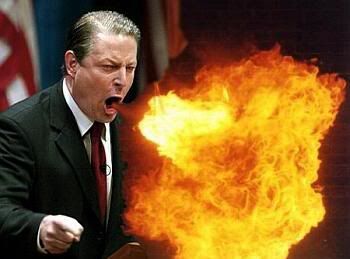 A bizarre thing has happened in DUmmieland. Ever since Head DUmmie Skinner laid down the
LAW
regarding criticism of The One in particular and Democrats in general, there is hardly any mention of Obama in their
GENERAL DISCUSSION: PRESIDENCY
forum. Since you can't say anything critical of Obama, the whole discussion of The Light Worker is generally avoided. What is not avoided is discussion of former Democrats, specifically Al Gore and the sex charge allegations brought against him by a massage therapist as you can see in this
THREAD
, "Al Gore sex investigation to be re-opened." So even though criticism of The One is verboten in DUmmieland, they are still allowed to slam the Crazed Sex Poodle. Therefore let us now watch the DUmmies stick the nose of that Crazed Sex Poodle Al into his own doo-doo in Bolshevik Red while the commentary of your humble correspondent, noting the irony of Gore getting busted with vice-presidue on pants as evidence, is in the [barackets]:

Al Gore sex investigation to be re-opened, say Portland police
[Which is why Algore suddenly hid his assets in an LLC to protect from lawsuits.]
An investigation into claims of sexual assault by former U.S. vice president Al Gore is to be re-opened, Portland police said Wednesday.
[Once again it was the National Enquirer, NOT the MSM, which broke this story.]
The move came after the massage therapist that accused Gore of mauling her in a hotel room in late 2006 was identified as Molly Hagerty.
[Forgive Al Gore. He just needed the release of his "chakra."]
In a statement Wednesday, police officials said: "The Portland Police Bureau has made the decision to re-open the case regarding the allegations brought forward against Mr. Al Gore.
[AFTER the National Enquirer published the details. FUn Fact: Your humble correspondent once sold a story to the NE. All it took was spending a day of research at the library.]
"Consistent with our policy regarding open investigations, the Police Bureau will not be commenting on any additional specifics regarding this case at this time."
[They won't be commenting but let us now look at the DUmmie comments about Al Gore which is sort of permitted under Skinner's new GroupThink rules.]
Oh boy just in time for the elections. Coincidence?
[Are you sure the massage therapist wasn't Karl Rove?]
What's Al running for?
[He just wanted a warming of his globals.]
How is it ok for you to disrespect former Vice President Gore but no one can say one bad word about Obama?
[Why don't you ask Skinner that? He's the one who came up with the ridiculous GroupThink rules.]
It could exonerate him and show the MT for the fraud she might be
[Better check with the DNA of the vice-presidue.]
THis is just too Paula Jones for me to take seriously.
[Is that you, Bill Clinton?]
certainly she writes well for a masseuse - sounds like Rover hired a xxx novelist for the job
[Rover faxed her the script from a Kinko's in Amarillo.]
she said that her friends encouraged her to keep quiet, that they were the Birkenstock Tribe (all very liberal, including her).
[Birkenshmucks.]
I for one believe Al to be celibate
[Is that you, Tipper?]
and a pair of pant's with al's "goo" on them.
[Vice-presigoo.]
Our great former President Al Gore is not a person who would do such a thing.
[He would never lose his precious bodily fluids.]
This stinks of Rove.
[Rove paranoia continues its hilarious path in DUmmieland.]
I agree that it has Kove written all over it.
[But of course. Just hold that thought until the nurse arrives with your lithium treatment.]
I believe her entire story and effort were created by GOP operatives to tarnish Al Gore in 2006, in case he was thinking about running in 2008 for president. Preemptive action.
[The main thing "tarnished" was the massage therapist's pants.]
I wouldn't be surprised if those rethug bastards are worried Gore will run & win because of the BP gusher.
[Apparently there was an AG gusher which ended up on the therapist's pants.]
whats wrong with a LITTLE Rub and tug
[The Ben Burch Special.]