DUmmies Enraged That Obama Talks Hoops While Oil Leak Continues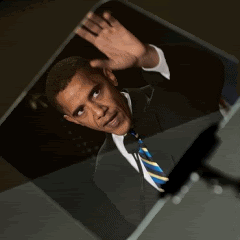 "Community Organizer" is just a fancy way of saying "B.S. Artist." And the DUmmies are now discovering that The One is a first class B.S. Artist. Yeah, the Gulf of Mexico has been filling up with oil for about 35 days and the biggest response from Obama so far is that he is talking hoops with Marv Albert. I kid you not. But should we be surprised? Here is a guy who barely, if ever, even attended a class at Columbia University. What did he DO at Harvard? Well, he got elected editor of Harvard Law Review but he wrote NOTHING for that journal. In fact, what did he ever DO at Harvard or anywhere else? Pretty much what he always did which was to coast through life on a pile of B.S., enabled by admiring liberals. And now those same liberals, and DUmmies, are discovering that Obama is a complete DO-NOTHING as you can see in this
THREAD
, "Mr. President now is not the time to be talking basketball." So let us now watch the DUmmies burn in Bolshevik Red while Obama shoots hoops while the commentary of your humble correspondent, wondering if Marv performed his Vampire routine on The One, is in the [barackets]:
Mr. President now is not the time to be talking basketball.
[But didn't FDR talk hoops to a joint session of Congress the day after the Japanese attacked Pearl Harbor?]
The Gulf of Mexico is dying and you are talking basketball? WTF were you thinking?
[Big Four Tournament.]
Obama explores LeBron's options

[Option A: Do Nothing in the Gulf.
Option B: Do nothing in the Gulf.]
If LeBron James isn't sure he can win in Cleveland, President Barack Obama thinks there's an opportunity with his hometown Chicago Bulls.
[Quiet! The B.S. Artist is in session.]
"You know, like I said, I don't want to meddle," Obama told TNT. "I will say this: Rose, Joakim Noah it's a pretty good core. You know, you could see LeBron fitting in pretty well there."

[Talk Hoops. Do Nothing. Talk Hoops. Do Nothing. Talk Hoops. Do Nothing...]
Obama was interviewed about a number of basketball subjects by broadcaster Marv Albert on the White House basketball court. The interview will be shown Tuesday night at 8 p.m. ET.
[Will it pre-empt the news about the oil leak?]
BTW what a bone headed thing to say too ..... Mr. President you already have the Illinois vote sewn up but Ohio is the important vote.
[Don't be so sure about the Illinois vote. And now more from the DUmmies on the B.S. Artist...]
It showed a tin ear to both the gravity of the situation in the Gulf and .... could lose Obama @ least 50,000 votes in Ohio in 2012. It is fine for him to watch, play, and talk basketball ..... I am all for that and I am sure it helps him deal w/ the stress of being President but to go on the record at this time was not a smart thing to do.
[The B.S. Artist freezes at the prospect of actually DOING something. So much easier to just talk hoops with Marv.]
It's not the time for any of the business-as-usual stuff he's been doing... It's astounding how clueless the prez is about this.
[Not so much clueless as frozen by fear of taking action.]