"WHY OBAMA LOST! RUSH LIMBAUGH OPERATION CHAOS!"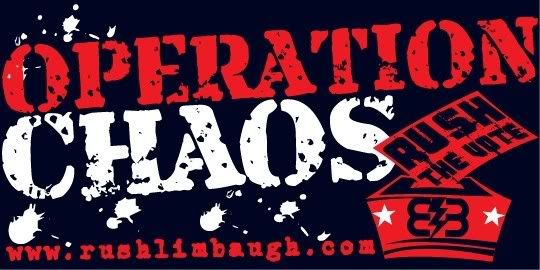 The MSM dare not speak its name but the DUmmies are not shy about assigning the REAL blame for Obama's loss in PA---Operation Chaos. It is amusing to hear all the pundits and political analysts go over the many reasons why Hillary won the Pennsylvania primary while carefully avoiding the TRUE reason why she won. Namely that hundreds of thousands of Republicans temporarily switched parties in order to vote for Hillary as part of Rush Limbaugh's Operation Chaos. Yes, the media analysts will note the large number of Republican crossover voters without daring to mention WHY they switched. However, the DUmmies are not shy in assigning blame for Obama's loss as you can see in this
THREAD
titled, "WHY OBAMA LOST! RUSH LIMBAUGH OPERATION CHAOS! TRANSCRIPT OF CALL." The transcript of that call to Rush is quite long so I will only present a portion of it. The full transcript is available on this DUmmie thread. So let us now watch the DUmmies sourly blame Operation Chaos for Obama's PA loss in Bolshevik Red while the commentary of your humble correspondent, wondering who the first major MSM figure will be to dare mention the REAL reason for that loss, is in the [brackets]:
[SPECIAL BONUS FEATURE: Check out this hilarious VIDEO of an enraged DUmmie going berserk over Operation Chaos!]

WHY OBAMA LOST! RUSH LIMBAUGH OPERATION CHAOS! TRANSCRIPT OF CALL

[And this DUmmie WINS a Kewpie Doll for having a brief moment of mental clarity merely for posting that thread title.]

here is the transcript of the phone call.

[It's a long transcript so I'll just post the first part of it.]

RUSH: We have an Operation Chaos volunteer on the phone from Exton, Pennsylvania, by the name of Bill. Bill, you're doing the Lord's work out there. Thanks for the call. Hello, sir.

CALLER: Hey, Rush. Yeah, we went to vote for Hillary. I was a gun-toting evangelical clinging to those guns and clinging to my God. I went out and voted. They asked me on the way out, the pollsters asked me, "Oh, were you one of the people who switched parties?" I said, "Yeah, I switched parties." "So why did you do that?" I said, "Because of Operation Chaosssss."

RUSH: All right!

CALLER: And then they went and they said, "Okay, what are the issues? Were they Iraq, global warming?" "No," I said. "No, it's because of Operation Chaos, led by the commander-in-chief, Rush," and she just laughed. She laughed her head off. Then I went over to the Hillary table and I was there with my Republican committeeman, which he's on board with Operation Chaos as well, and I said, "I voted for Hillary," and she said, "Oh, thank you very much. Thank you very much." "But," I said, "Tomorrow, I'll be reregistering Republican," and she just laughed. It was just a classic moment.
RUSH: That's all they care about is the now anyway. You know, they'll deal with the general later. They just care about the now. They're so happy you did it. I know the Clinton campaign's grateful as they can be for Operation Chaos. They can't ever say so, but they're grateful as hell.

[You can read the rest of this transcript on that DUmmie thread. Let us now watch the angry reactions of the DUmmies over the fact that Operation Chaos is prolonging the agony of the Democrat contest and causing a meltdown of that party...]

This makes sense. She only started winning after the republican process ended.

[...And Operation Chaos began. Hee! Hee!]

Chaos voters aren't swing voters and will never vote Democrat (except this time, to help Hillary screw the Dem Party). They are flying monkeys with brown shirts and they are helping your gal f*ck this process up worse.

[Watch out for the flying monkeys screwing the Democrats. Hee! Hee!]

honestly think there needs to be a law against this

[You should have thought of that when the Democrats in NH, figuring Obama to be a sure winner, crossed over to vote for McCain in the primary. The ironic thing is that if you had not crossed over in such numbers, you could have killed the Hillary campaign in NH. Instead you are now faced with the nightmare of the Democrat Michael Myers.]

His goal is not to have Clinton win the nomination, it's about causing chaos in the Democratic party. It's about invading the party to cause confusion and lack of clarity as to who is getting what votes. By spreading the message of his Operation Chaos, you promote it. I read about this last night on a site that ridicules DU.

[I hope you enjoyed that edition of the DUmmie FUnnies. May I place you on our PING list?]

Aren't they breaking the law? They have to sign an affirmation as to the truth on their application to register to vote. I do not understand how this is allowed to go on if you have these brain dead idiots actually admitting to fraud

[But when Democrats switch over to vote in Republican primaries, that is perfectly alright. Consider this payback for when so many Democrats crossed over to vote for McCain in New Hampshire instead of using the opportunity to put Hillary away for good.]

Of course this has an impact. The media underplays its importance.

[They just can't bring themselves to recognize the importance of Rush Limbaugh and how he is ingeniously destroying the Democrat party.]

Yes but what you leave out is that before Texas... Obama was winning more of the Republican vote... only after the start of "Operation fatboy" was their a spike in the amount of Republicans voting...with most of the new votes going to Clinton... thus making Obama's win of Republicans much smaller

[And this operation has the detonation power of the original Fatboy that was dropped on Nagasaki.]

What I dont get is why MSM completely ignores this crap. And it needs to be addressed..the way anyone can just switch like that..SOON.


[The MSM can only address the results of Operation Chaos but not the REASON Hillary is getting so many Republican votes. They dare not give Rush credit for destroying their beloved Democrat party. Much too painful.]

This is organized election fraud. Rush Limbaugh should be prosecuted for this. Also every asshole that participates in it.

[May we also indict all those Democrat voters who switched to vote for McCain in the primaries?]

I guess they are setting examples to their children on how to be a good Repuke way to go, dittobots. Im sure your kids look up to yall.


[It must really HURT to be forced to stand idly by as El Rushbo completely destroys the Democrat party.]

Most of their kids are probably fat morons like Rush. It's difficult for me to advocate the death of another human being, but this guy should be exterminated.

[Feel the love!]

It's naive to think that some of Clinton's votes DON'T come from dittoheads. There was a post yesterday about an entire PA repub family doing exactly that, and planning proudly to switch back over and put their true support back behind McCain for the GE. That's the difference between repubs voting for Clinton and Obama - Obama's getting the people who are true crossovers who plan to stick with him in the GE; Hillary is getting the ones who want to pit her against McCain because that gives McCain the better chance. Rush dittoheads do not WANT Obama in the GE.

[Not quite right, my little DUmmie. The real purpose isn't to defeat Obama but to DESTROY the Democrat party.]

This should be against election laws!!

[DUmmies should have thought of that when they voted for McCain. Payback is a bitch.]

There should be some lasting negative ramification for switching parties under false pretenses.

[The lasting impact will be the DESTRUCTION of the Democrat party.]

I'm speechless. I'm livid. It's un-f*cking-believable. I don't know what to say. Is there any way to track how many people call in and switch their party back to R?

[Were you the DUmmie in the video above?]

Anyone Have an Estimate of How Many Votes Operation Chaos was responsible for? Just wondering if it could have been a major factor.

[Not just a major factor. It was THE factor in winning PA for Hillary.]