"The Race Goes On -- And Gets Uglier"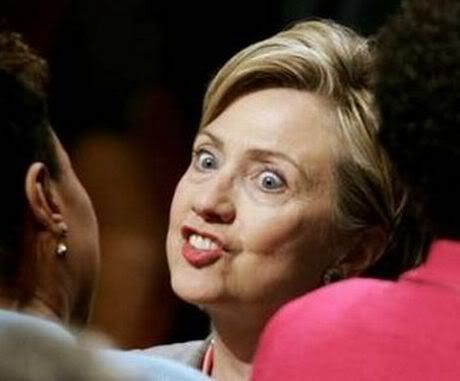 Thanx in large part to Rush Limbaugh who urged his listeners to cross party lines to vote for Hillary in Texas, we now have the BEST of all outcomes in the Democrat nomination process: a long bloody fight to the bitter end this summer. Out the window is a dull, scripted, happy face Democrat convention this summer (and possibly beyond). Instead we will be treated to the spectacle of anger, hate, and above all extreme bitterness as reflected in this HUffington POst
THREAD
accurately titled, "The Race Goes On -- And Gets Uglier." Among the great entertainment to be presented for our enjoyment will be lawsuits, superdelegate bribery, and a major attempt to seat the Michigan and Florida delegates. All this has the positive effect of tearing apart the Democrat coalition. What's not to like? So let us now watch the leftwing HUffies already reflecting the bitter divisions in the Democrat party in Bolshevik Red, while the commentary of your humble correspondent, thoroughly enjoying the political spectacle of Democrats tearing themselves apart, is in the [brackets]:

The Race Goes On -- And Gets Uglier

[And more entertaining!]

"Now it could get ugly," McClatchy reports in its Tuesday night wrap-up.


[Only could? I think it is a SLAM DUNK that it will get uglier.]

Hillary Clinton's victories in Ohio and Rhode Island aren't enough to turn the tide and overtake Barack Obama, who still leads in delegates needed to win the Democratic presidential nomination.


[Don't forget her victory in Texas...Thanx to Rush Limbaugh.]

But her victories were enough to stop his winning streak at 12 and break his momentum. Perhaps more important for the party, Tuesday's results likely ratified her scathing attacks on Obama as a dangerous neophyte who would endanger the country.


[Icky Harold Ickes is about to enter full smear mode against the Obamassiah.]

As long as Clinton thinks that works -- she could say she's found her voice again -- and suspects that other forces also might be starting to line up against Obama, she'll stay in the race and keep hitting him harder and harder.

[Smear him! Smear him! Harder! Harder! (And then blame EVIL Republicans for the smears.)]

"We're going on, we're going strong and we're going all the way," she told supporters in Columbus Tuesday night.

[A vicious bloody fight all the way to the convention.]

She almost certainly can't overtake him in the 11 states left to vote. However, she can stay in and hope that he falters under her attacks, tough new scrutiny from the news media and more Clinton wins in states such as Pennsylvania, which votes on April 22.

[Paging Tony Rezko!]

Seemingly confirming this take, senior Obama advisor David Axelrod told reporters on Tuesday that his candidate is ready to go toe-to-toe with Clinton:

[Scorched Earth. Woo! Hoo!]

"We have not hesitated to draw distinctions between the candidates," he said, "and we'll continue to do that. If Sen. Clinton wants to take the debate to various places, we'll join that debate. We'll do it on our terms and in our own way, but if she wants to make issues like ethics and disclosure and lawfirms and real estate deals and all that stuff issues, as I've said before I don't know why they'd want to go there, but I guess that's where they'll take the race."


[We'll match your smears by bringing up your scandals. Oh, and don't forget that amazing cattle futures investment.]

But is Obama willing to go there?

[You need a switchblade when you go up against the Hildebeast, Barack.]

"We're willing to draw distinctions that are honest and legitimate," Axelrod said before raising the issue of Clinton's tax returns and the records from the Clinton library.

[Down in the dirt already. I LOVE it!]

It's going to be a long seven weeks to Pennsylvania....

[Let the mud-flinging entertainment begin! And now to hear from the HUffies...]

That's the unfortunate part - that it will get even uglier. Hillary Clinton will never put the party or the country before her (and Bill's) ambitions and determination to get back into the White House. It is virtually impossible for her to win the nomination with the upcoming contests. If she had any class and humility, she would bow out gracefully. But the Clintons are not known for their grace and class and so she will proceed to tear down all of us in order to realize her selfish ambitions. I hope that her continued gutter politics swing even more momentum Obama's way and then in the next month or so we can finally shut the door on the Clinton years.

[I love that tear down all of you part!]

Clinton is God's gift to the Republicans. She will reinvigorate that party like nothing else. There is so much hatred of her in the Democratic Party also that many voters would rather vote for McCain. All the new dirt re the upcoming fraud trial in Los Angeles will come up. The trial is expected t begin in October, just in time to bury the Clinttons in the General. There is so much dirt on the Clintons. Obama's team will bring it all up now. They've been playing nice but if she wants to play dirty, so can he, but with more finesse than she and her team have the capability for.


[Finessed mud slinging.]

Makes you wonder how many Republicans listened to Limbaugh and voted for Hillary in Texas. His strategy might work.

[Hee! Hee!]

Maybe I am just bummed out today, but this really stinks for our party. I am happy for Hilary she did what she had to win. I just think we are screwed in November because of this protracted battle. I really could care less if it is Hilary or not, Obama will be on the ticket one way or the other. I just don't want us to look like idiots for the next 2 months. Also, so far Obama has managed to never START the negative garbage, if someone in his camp decides to go that way, I am off the Obama train.

[What should Barack do? Save his sacred purity for Paris Hilton?]

It will be up to the party to decide about MI and FL, and the super delegates. It makes us look disfunctional.

[Thank you, Howard Dean. YEEEEAAAAGGGHHH!!!]

Her and Bill's egoes are so big that as long as she isnt embarassing herself she's going to stay in the race. It seems winning is more important to her than her party or her ideals. She's going to viciously attack Obama for SEVEN MORE WEEKS! and hurt our chances in the general. way to go, clinton.

[Way to go, clinton!]

That about sums it up - several more weeks of attacks on Obama and for what? She will not win the nomination and will be basically doing the bidding of Republicans. What a shame and a sham. The Clintons are bad news all around and the Dems need to close this chapter and call them on their crap. Hopefully more and more party bigwigs will stand up to them and tell Hillary it is over.

[Don't forget to thank Rush for making this go on and on and...]

Hillary Clinton is a goddamn phony and it's about time Obama saved us from the threat of another Clinton presidency. If he doesn't have the stomach for it, he should get out of the race.

[Save us oh Mighty Saviour...or I'm dumping you.]

I never thought it would get this ugly, but it's probably a good thing that it has. Let's hope Obama learned his lesson last night. Evil bitches win. Good guys finish second.

[Hillary is counting on that platitude.]

Now Barack has to go negative/attack to survive. Meanwhile the Republicans watch and drool.

[I'm already drooling but haven't quite reached Chris Matthews type flood levels yet.]

OBAMA must expose the Clinton Machine for what it is, a deeply corrupt, suspect and fraudulent operation. Let us begin. Hillary wants to talk about Rezko, all there is to know is already known. America needs a history lesson on the Clintons and the mainstream media needs to bring it in earnest and stop covering up this phoney bitch's lies. History does not LIE. Clintons do. Hillary's Tax Returns: Why? Americans have a right to know if Clinton wealth was obtained by foreigners who are bankrolling her campaign and buying the Whitehouse.

[Like Johnny Chung who put those coins in the Clinton White House subway gate?]