Obama Just As Kooky As Kookcinich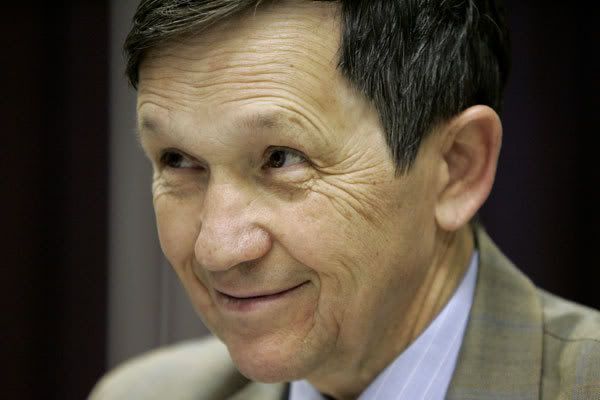 Psst! You wanna know a dirty little secret? Barack Obama is just as kooky as Dennis Kucinich. The only difference between the two besides the fact that Kucinich is a marginalized figure and that Obama is a presumptive presidential nominee is that Kucinich wants to impeach members of the Bush administration for War Crimes while Obama wants to wait until he is president to prosecute officials of the previous administration as war criminals. Huh? You hadn't heard about this? That is because the MSM has covered up that dirty little aspect of the future plans of Mr. Unity. To get yourself up to speed on Obama's plans to prosecute members of the EVIL Bush Regime as war criminals, check out this NewsBusters
STORY
. Please be sure to also check out this
PDF
screencap from Obama's website. Magnify it so you can read the final sentence:
"Take immediate steps to confront the humanitarian disaster in Iraq and hold accountable any perpetrators of war crimes."
Do you think Obama means Al Qaeda when referring to "perpetrators of war crimes?" Ha! I think not. More like the people fighting AGAINST Al Qaeda which includes our own military personnel. Meanwhile the entire leftwing Blogosphere has once AGAIN worked themselves into an impeachment frenzy as you can see in this Daily KOs KOmmie THREAD titled, "BREAKING ON C-SPAN: Kucinich introducing impeachment." Of course, this impeachment resolution will go absolutely nowhere considering the known NUtcase who is introducing it. The real danger will come from an Obama presidency who will direct his attorney general to prosecute our own people as war criminals. One administration criminalizing the politics of a previous administration. This is a hallmark of a Banana Republic or, more precisely, an Obama Republic. So let us now watch the KOmmies cheer on Dennis Kucinich in Bolshevik Red while the commentary of your humble correspondent, noting that the Left need only to wait for an Obama presidency to achieve all that Kucinich wants and more, is in the [barackets]:

BREAKING ON C-SPAN: Kucinich introducing impeachment

[BREAKING ON C-SPAN: Obama's Attorney General indicts top Bush officials for war crimes.]
Dennis Kucinich is speaking on the floor of Congress (and on C-SPAN) right now, introducing articles of impeachment.
[Which will go nowhere but have patience, the Obama Chekha is soon to come.]
Go, Dennis!
[He will go nowhere but Obama will.]
Congressman Dennis Kucinich is on the floor of the House of Representatives right now introducing 35 articles of impeachment against President George W. Bush.
[Notes being taken down by Eric Holder, future Obama AG, who will be prosecuting the Bush war criminals.]
Yes, 35. He'll be reading for a while. [Update: at an hour and a half, he's up to #14
[Is that the one about ripping tags off mattresses or the jaywalking one?]
Eleventh update: Four hours and forty minutes later, he's done, having listed every possible crime committed by the George W. Bush administration. Some may say a few of the 35 didn't exactly amount to high crimes and misdemeanors. Maybe not. But they were certainly all crimes.
[Not to worry. We will just make overdue library books an impeachable offense. And now on to the impatient KOmmies who need only wait for President Obama's AG to indict Bush administration members and military personnel for war crimes...]
now that Bush has seven or eight months left in his term, I can't help but see this as primarily an attempt at theater that is designed at further damaging the Republican brand, and making sure that McCain, by association, is damaged right along with it. In other words, the main purpose of this, is to help Obama win the presidency, and the Democrats to get further control of Congress.

[A Kewpie Doll to you but this could end up HARMING Obama since it will bring unwanted attention to Obama's plans to prosecute the EVIL Bush war criminals.]
If these voilations go unpunished, we will see a repeat of this behavior at some point in the future.
[Don't worry. President Obama has promised the prosecution of non-Al Qaeda war criminals ]
Kucinich just saved Obama's AG a few months of work...
[BINGO! Thank you for being honest in revealing Obama's future plans to prosecute the "war criminals."]
One of the articles Dennis read has the illegal false prosecutions of Democratic candidates in an election season.
[Prosecution of candidates for any crime is only an impeachable offense if they are Democrats.]
Impeachment may be off the table, but it's no longer off the floor. That is a step towards the future.

[When Attorney General Eric Holder will conduct mass trials against the Bush Regime.]
and impeachment can happen even after they leave office.

[Posted the KOmmie Einstein.]
Congress should have a voice vote, "Impeach Bush, yes or no?" The Yes's have it, the President has been indicted. Senate, "all in favor of declaring Bush violated his oath of office, say yes." "Yes We Can". Sargent at Arms, escort former President Bush to the stockades awaiting transport to The Hague.
[Congrats for being the first KOmmie in this thread to reference The Hague.]
My other dream is that President Obama, immediately upon taking his oath to uphold the Constitution, turns to Bush and Cheney and says, You're under arrest.
[Not a dream but a reality according to Obama himself.]
This opens the door to a lot more against Bush, cheney and others associated with the crimes and misdemeanors of the executive branch... Though I also think it's a stretch that war crimes would be brought up against these individuals after they leave office.
[Not a stretch at all according to Obama himself.]
The clock does not run out on impeachment when the perp leaves office. The Republicans convinced a lot of people in the 90s that impeachment was just a political tool. It's not. It's a tool to punish criminals, too.

[Posted the KOmmie constitutional scholar.]
I think that even if this doesn't lead directly to impeachment, it'll at least start getting people used to thinking along the right lines... that Bush and his buddies are NOT above the law, and that people ARE gonna try to hold them accountable for their crimes.
[People like President Obama's Attorney General.]
Impeachment may guarantee Obama victory AND 60+ seats in the Senate, etc.
Or the complete opposite.
[Oops!]
35 articles of impeachment is too many...unless it's just a show speech. Regardless of how many things one thinks Bush has done, impeachment isn't the answer -- politically or whatever -- it never was. Maybe you disagree. But if someone thinks it is they really ought to target the articles more specifically and have a single case that can be won. The shotgun effect doesn't work when it's impeachment, especially when you're Dennis Kucinich.
[But...but can't we just impeach Bush because we don't like his politics?]
The next step would be to Extradite to the Hague for War Crimes trials, and criminal charges back home (in whichever order you please)
[Is that you, future Obama AG Eric Holder?]
better to wait until Obama's president and can institute an investigation into any criminal wrongdoings and then really throw the book at 'em!
[Better to wait for the advent of the Obama Republic so we can criminalize the politics of the previous administration.]
How do we have any guarantee Obama would do that?
he has already gone on the record that within the first 90 days he will convene a panel to investigate criminal wrongdoing in the bush admin and he has promised that if there is evidence, he will move to indict and prosecute. yaaaaah hhhhhhhooooooooo!

[The criminalization of the politics of the Bush administration during the Obama Republic. yaaaaah hhhhhhhooooooooo!]
I feel that an attempt should be made to prosecute Bush and company even after he leaves office. To allow them all to simply walk into the sunset is a crime in and of itself. It is setting an dangerous precedent. Perhaps a citizens arrest at the inauguration ?
[Good news! Your wish will come true under the Obama Republic.]
Specifics please? What exact laws did Bush break?
[KILLJOY!!!]
Somebody cite some specific high crime or misdemeanor that Bush has committed by accusing him of breaking some law (in an incontrovertible way) with conclusive evidence. Intellectual honesty anyone?
[LOUSY FREEPER TROLL!!!]
the hearings will reveal the necessary proof

[Toss enough charges out there and maybe something will turn up at the hearings.]
He is on the record as saying before 2000 that if he became president he would be a war president because war presidents get re-elected. I belive that constitutes proof of intent.
[WOW! Real solid grounds for impeachment right there!]
I can believe cable news isn't covering this, but why isn't it breaking news on Huff Post? I just watched this man speak for 4 hours and 25 minutes. This is criminal that no one is covering it!

[It's criminal that the MSM isn't covering Obama's STATED intention to prosecute members of the previous administration as well as military personnel.]