No Mere Mortal May Say The Sacred Name Of Barack Obama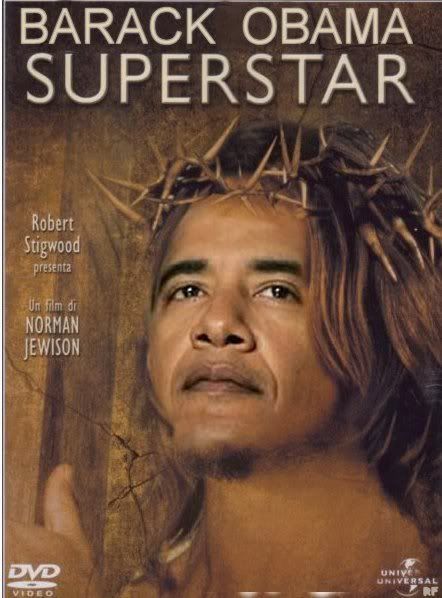 Oh Holiest of Holies, Hallowed be thy Blessed Name. No mere mortal, especially EVIL Republicans are worthy enough to allow your name to pass from their lips. Even writing it I feel compelled to spell it as B*r*ck *b*m*. If you think I am exaggerating about the awe in which the DUmmies hold the sacred name of Barack Obama, think again as you can see from the very title of this DUmmie
THREAD
, "Is it just me, or do you also get pissed when you hear McCain say Obama's name?" The reverence of this thread is also reflected in this other DUmmie
THREAD
titled, "Barack loves me, this I know." So let us now watch the DUmmies work themselves into a righteous fury in Bolshevik Red while the commentary of your humble correspondent, not yet worthy enough to utter the name of You-Know-Who, is in the [brackets]:

Is it just me, or do you also get pissed when you hear McCain say Obama's name?

[I agree. You must first achieve a high level of progressive holiness before you can even attempt to say the sacred name of Barack Obama.]

Makes me want to slap the everloving crap out of him.

[HE IS NOT WORTHY!!!]

Don't forget Rove, I hate him too.

[Do you foul your diaper whenever you hear Karl Rove utter the sacred name of Barack Obama?]

If this were the wild wild west, we could send a posse out for him.

[If this were medieval Spain, we could send the Inquistion out for him.]

Does he not say it with enough reverence?

[No, plus he does not drop to his knees when speaking the sacred name.]

No, he's a republican speaking a democrats name and it drives me insane. He thinks he's entitled. Asshole--I hope his head explodes.

[It is a sacrilege for a Republican to speak the sacred Obama name.]

I don't like mccain, but just cause he says his opponent's name, if that pisses you off, you're not going to have a fun time this november.


[I'm already envisioning exploding DUmmie heads.]

You're right, I'm already on Nexium because of this election.

[By November, you'll be on heroin.]

I believe everyone in this country should be vetted before they are allowed to even breathe his name. That's why everybody but Obama supporters should just use "Glitterbama".

[You must be approved by a Board of Examiners before uttering the holy Obama name.]

Because he doesn't genuflect when he says it?

[Absolutely. You must drop to your knees and genuflect before daring to utter the sacred name.]