"Seriously, what idiot in the administration. . . ?"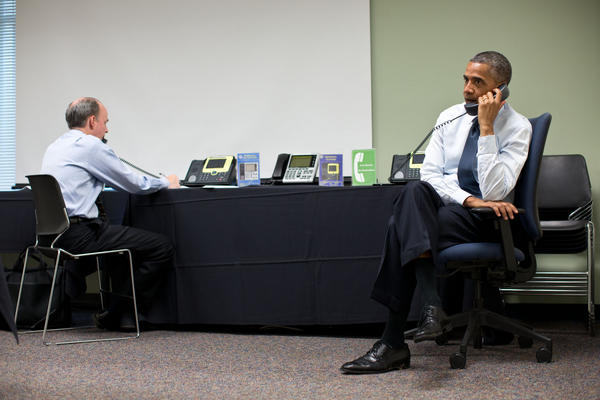 "Hello? Is this President Morsi's office? . . . It is? Could you please put me through to him? . . . Yes, I'll wait. Thank you. . . . Dum de dum dum. . . . Yes, is this President Morsi? . . . Hello, Mohamed! This is Barack. . . . Barack Hussein Obama, you know, your brother from another mother. I'm calling from here in the United States. . . Yes, Mohamed, Allahu Akbar to you, too. . . . How am I? Well, I'm fine. Thanks for asking. And how about yourself? . . . You're fine, too. Good. I'm glad that we're both fine. . . . Now listen, Mohamed, about these embassy things. I just called to apologize to you VERY DEEPLY about what a bunch of infidels we have here in this country. . . . I know, I know, may they all be spat upon by camels and have their testicles crushed. . . . It's just, you see, we have this silly little 'freedom of speech' thing here in America, and, frankly, there's not much I can do about it at the moment. We're TRYING--believe me, we're trying--to do everything we can to stop them, but some of our folks are kind of, well, obstinate. . . . Yes, I know, Mohamed, it would be so much simpler if we just gunned them all down, but this is an election year, and that sort of thing would not go over too well. . . . So, what I guess I'm saying is: What do you want me to do to appease your crowds? . . . An apology tour through the Arab world? I could do that. Could it wait till after the election, though? I've got a lot of fundraisers to attend right now. . . . And, and what? Five billion dollars more in aid? We could do that. . . . Made out to your personal account? OK, let me talk to my people and I'll get back to you. . . . Fine. Alright then. And may a thousand virgins greet you in paradise, too, Mohamed. Bye now."
This past week has not exactly shown Our President at his best. The Appeaser-and-Apologizer-in-Chief has looked bewildered and befuddled as his "Arab Spring" has blown up in his face. It's a Spring Surprise! < /montypython >
What to do? What to do? I've got it! Blame some obscure filmmaker for the riots and try to shut him down! So what if the film is just an excuse the Muzzies are using for their bad behavior? And so what if we've got a First Amendment here that protects freedom of speech? We'll do it anyway!
Emperor Zero fiddles while Cairo and Benghazi and (fill in the blank) burn. But at least one DUmmie has dared to call out the Obozo adminstration on their bumbling and fumbling. DUmmie Fgiriun has done so here in this
THREAD
, "Seriously, what idiot in the administration thought it would be a good idea. . . ."
So let us now enter the Land of DUmmies, where even LOUSY FREEPER TROLLS sometime sneak in and post in Bolshevik Red, while the commentary of your humble guest correspondent, Charles Henrickson, promising you an EXTRA ADDED SURPRISE you won't want to miss toward the end of this DUFU, is in the [brackets]:
Seriously, what idiot in the administration. . . .
[I can tell already this is going to be a difficult question. There are so many idiots to choose from!]
Seriously, what idiot in the administration thought it would be a good idea to request Google to remove the film?
[Oh oh. Careful, DUmmie Fgiriun! You are treading on dangerous ice! One must not criticize Dear Leader!]
This plays right into the conservative talking points and does absolutely nothing other than buy into a failed notion of appeasement.
[Appease at any price.]
The film is not the cause of the protest and even if it were removing it from Youtube would have absolutely no effect on these people.
[Alright, everyone, say it with me: LOUSY FREEPER TROLL!!!]
This is absolutely disgraceful and could potentially cost Obama a lot of votes.
[DUmmie Fgiriun (75 posts), this post could potentially cost you a tombstone. . . . The DUmmies reply . . .]
I don't have a problem with it. It's a request.
Your concern has been noted.
[DUmmie Jeff In Milwaukee suspects DUmmie Fgiriun is a Concern Troll.]
Bullsh*t !!!! This is a wedge issue for desperate Fundies.
[DUmmie Fgiriun is accused of being a wedge-atarian. He then defends himself . . .]
People react to talking points. Although there is nothing menacing about submitting a request to potentially remove content based on the TOS, there are people who will falsely view this as a violation of the first amendment. The right wing is not the only group that has strong views regarding free speech.
[Nicely played, Fgiriun. You say "falsely view," even as you get your point across that this IS an attempt at intimidation!]
Great way to start your life on DU.
[Buh bye, Fgiriun, O ye of 75 posts!]
There is nothing wrong or disgraceful about this request.
["Nothing in Austria has changed." Thank you, Herr Zeller.]
You don't need much to get right winger panties in a wad these days. . . .
[This is giving them a wedgie.]
They are continually frothing at the mouth like rabid dogs. . . .
[Unlike these fellows . . .]
I'm an avid contributor on Reddit, which is very liberal in nature and there has been a lot of people who view this as a threat to free speech. I don't think it is, but most people don't consider the facts.
["I don't think it is." Yeah, right, Fgiriun. I see what you're doing.]
It troubles me too.
[An ally! Or else a Fgiriun sockpuppet.]
The actors involved should sue Google's @ss right now. I would. The film was done under false pretenses, and they have cause. F*** google.
[Now Google is the enemy. Must not suggest that the rioters themselves are responsible for the rioting.]
No, the target of the lawsuit should be the director and others. . . .
[Just not the rioters. Anyone but them.]
I definitely think this is NOT a First Amendment issue. Well, actually it is, but there are limitations even on the First Amendment.
[Insults against Islam, BAD, not protected. Insults against Christianity, GOOD, fair game! In fact, Christianity itself should be banned!}
I think this goes under the "Fire" in a crowded theater scenario. . . .
[I would say it goes under the "Rioters set a fire in an unprotected embassy" scenario.]
I actually doubt they could pursue a slander case against the Prophet.
[Like Mohammed, I am no prophet, but I predict such a case would get nowhere. Islam is a non-prophet organization. There is no god called "Allah," and Mohammed is his false prophet. Piss be upon them. I slam Islam.]
Freedom of speech isn't absolute. This film was like yelling "FIRE!" in a crowded theater. . . . It was purely an incitement to riot and it worked.
[Again with the "Fire in a crowded theater"! Show me where in the film it was calling on people to riot and burn down American embassies. Then you might have a point.]
I doubt half the people partaking in the protests have even seen the video.
[So, actually, it's like yelling "Fire!" in an EMPTY theater.]
I bet over half the protesters don't even know what they are protesting. They look like a bunch of punk kids to me.
[They're like the Occupy Kids of the Middle East.]
I have had the unfortunate duty of listening to the Fox Radio Network for a couple of weeks now, and they are already in what the German general staff used to call Wolkenkuckucksheim, "cloud cuckoo land," the fantasy-land from which the Fuhrer issued his unworkable orders in the waning days of World War II.
[Obama is in Wasdasficksheim, "WTF Land," in which Dear Leader is letting Eric Himmler Holder and Hillary von Ribbentrop Clinton run the show in the waning days of his administration.]
The right-wingers? F*** 'em. You know what they were b*tching all this week? The fact that President Obama doesn't attend Presidential Intelligence Briefings. . . .
[The Campaigner-in-Chief has more important things to do.]
Nothing wrong with that request. "Failed notion of appeasement"? Sounds like a Hannity talking point.
[DUmmie Fgiriun is on the verge of in-hannity.]
Guess I'm an idiot, too. I think it SHOULD be taken down. Period.
[Let's take down the First Amendment, too, while we're at it.]
Seriously. . . . What idiot let this troll in?
[We LOUSY FREEPER TROLLS are everywhere!!! Hee! Hee!]
[Speaking of idiots, we now turn to the promised EXTRA ADDED SURPRISE I told you about earlier. And it is . . Pitt! Yes, William Rivers Pitt, Pied Piper Pitt, has an important announcment to make, here in this
THREAD
. . .]
First trimester accomplished, two more to go.
[Wha-- WHAAT?? What are you talking about, Pitt? Is it what I think?]
Yes, I'm going to be a father.
[STOP THE PRESSES! PITT IS REPRODUCING!!]
Mom and baby are as healthy as healthy can be.
[Notice, Pitt calls it, at just three months along, a "baby." I guess it's a "baby" if you want it; otherwise, it's just some unwanted tissue you can dispose of. Thus Pitt displays the unaware hypocrisy of the pro-abort crowd.]
So there's that.
[Congratulations, Proud Papa Pitt! I didn't know you had it in ya!]
Congratulations! I always pictured you to be an old geezer.
[Well, he's getting there. The 40-Year-Old Insurgent is going to be a 41-Year-Old Father.]
I have a feeling we are in for lots more cute.
[Let's hope the kid takes after his mother. Otherwise, William Pitt the Younger could end up looking like William Pitt the Elder:]
I'm sure your mom is just loving this too.
[To which DUmmie Raven, aka Mother Pitt, the Grandma-to-be, responds . . .]
YOU BET I AM!!!!! I walked into TJ MAX yesterday and the baby clothes just hit me in the face.
[Careful, DUmmie Raven! Watch where you're going! Stay IN the aisle!]
Went home with little undershirts, tiny bodysuits and a few other things. What fun!
[OK, so you did your regular shopping for Wee Willie. But what did you get for the kid?]
All RIGHT! We need more little Pitts in this world.
[More Pitts. God help us. I just HOPE this little child grows up to be a conservative Rethuglican! Wouldn't THAT be FUn!]